The Kerns Neighborhood Association Board meets on the third Wednesday of each month except for August (annual picnic month – First Tuesday) and December.  Food and beverage (pizza, salad and soda) will be available.   Board elections occur in May.
Upcoming Events:
Happy Holidays!  Come celebrate with us!  You are invited to the Kerns Holiday/Year End celebration on Weds., Dec. 18 from 6:30-8:30 p.m. at the Cardinal Club (18 NE 28th Ave, Portland).  We look forward to seeing  you all there.  Please RSVP by Dec. 11 by emailing kernsna@gmail.com.    
January Meeting:  Weds., Jan. 15 at 6 p.m.  Location:  Pacific Crest Community School.  If you have agenda items please email kernsna@gmail.com.
The Kerns neighborhood is located in Central/Southeast Portland, just on the East side of the Willamette River, North of Burnside Street. It is bordered by the Buckman, Lloyd, Sullivan's Gulch, Laurelhurst and Sunnyside neighborhoods.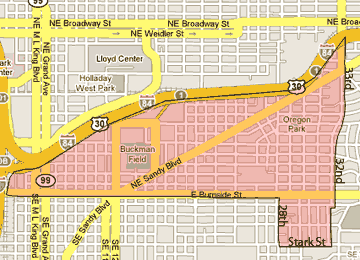 Join our monthly e-newsletter list:
Click here to sign up for our monthly e-newsletter that includes meeting information, timely events, and new businesses in the neighborhood!