The Kerns Neighborhood Association Board meets monthly on the third Wednesday except for August (annual picnic month – First Tuesday) and December.  Food and beverage (pizza and drinks) are provided.   Board elections and general meeting takes place in May.  Neighbors, property and business owners are always welcome to attend our meetings.
Meeting schedule:
Our montly  meetings are held at the Pacific Crest Community School at the corner of NE 29th and Davis St from 6 – 8pm. We meet on the third Wednesday of every month, except for August and December.
Please contact kernsna@gmail.com if you'd like to request time on next month's agenda.
Next meeting: May 18, 2016
Agenda will be posted here by May 11.
May 2016 – Board Elections
Kerns needs YOU! Board elections will be held at our May 18th meeting, and we are seeking new board members to join the community conversation. Please consider joining the board and lending your talents to make our neighborhood a better place. We are in need of volunteers to help keep our annual events alive & healthy. If you live, work or own property in the neighborhood, we would love to have you on board!
Kerns / Buckman Community Collection Event – Success!
Our annual "spring cleanup" was held on April 16th at Hinson Baptist Church who has graciously hosted this event for the past 4 years. The event is sponsored by Metro, SOLV and the Portland Bureau of Sustainability.  Thanks to all of our neighborhood and Central Catholic student volunteers who helped unload three containers of bulky waste and one container of yard debris. Also, thank you to the local businesses who donated food for the event, including Staccato Gelato, Delicious Donuts, Starbucks, and Whole Foods. Thanks to Coca Cola for providing water.  
Overall, it was a successful event that provided a convenient place for our neighbors to dispose of their unwanted stuff!  Also, the donations we collected will help Kerns and Buckman fund their annual events.
The Kerns neighborhood is located in Central/Southeast Portland, just on the East side of the Willamette River, North of Burnside Street. It is bordered by the Buckman, Lloyd, Sullivan's Gulch, Laurelhurst and Sunnyside neighborhoods.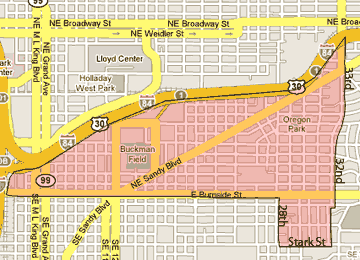 Receive our monthly e-newsletter:
Click here to sign up for our monthly e-newsletter that includes meeting information, events, news and more!