The Kerns Neighborhood Association Board meets on the third Wednesday of each month except for August (annual picnic month – First Tuesday) and December.  Food and beverage (pizza, salad and soda) will be available.   Board elections occur in May.
Upcoming Events:
Next Meeting:  Weds., April 16 at 6 p.m.  Pizza and beverages are provided.
Location:  Pacific Crest Community School.  Corner of NE Davis and 29th Avenue.
Agenda items for this month include:  Stammtisch Outdoor Seating Plans, Drinking/Smoking and Public Spaces presentation, Bureau of Planning & Sustainability Neighborhood Liaison, and Spring Cleanup Planning.
Other concerns or items you'd like to see on the agenda?  Please email kernsna@gmail.com.
*******************************************************************************
Kerns/Buckman Annual Clean Up:  Sat., April 19 from 9 a.m. – Noon
Location:  Hinson Baptist Church – 1315 SE 20th
*Enter on Salmon from 20th Ave.
What to bring:  Bulky waste, scrap wood, yard debris, appliances, tires, unwanted furniture & household items, metal, block styrofoam, batteries (no lithiam/car), tires (maximum of 5), computers and other electronics.  Paint cans without lids and dried paint are acceptable.  *This year's list could change and will be updated soon.  Check back.
No accepted:  Hazardous waste, paint, concrete, dirt, styrofoam peanuts, lithium car batteries or fluorescent bulbs.  Contact Metro for hazardous material disposal.
Cost:  $10-30 sliding scale.  Suggested donations cover clean-up cost and help fund neighborhood events.
Thank you to our volunteers from Norse Hall/Sons of Norway, Central Catholic High School and Benson High  School who will be picking up trash and noting graffiti.  Graffiti Collaboration Clean-up efforts will identify and remove graffiti with the help of contracted removal crews.
Thank you also to the food donors who will be feeding our volunteers: Dove Vivi Pizza, Whole Foods and Delicious Donuts.  Interested in helping us feed our volunteers too?  Please contact Heather at 503-238-5217.
We can always use more volunteers to help with the day's efforts. Individuals interested in assisting may contact us via email or phone.
To volunteer contact: kernsna@gmail.com or call 503-784-8785
The Kerns neighborhood is located in Central/Southeast Portland, just on the East side of the Willamette River, North of Burnside Street. It is bordered by the Buckman, Lloyd, Sullivan's Gulch, Laurelhurst and Sunnyside neighborhoods.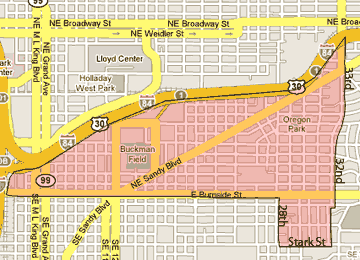 Join our monthly e-newsletter list:
Click here to sign up for our monthly e-newsletter that includes meeting information, timely events, and new businesses in the neighborhood!