The Kerns Neighborhood Association Board meets monthly on the third Wednesday; except for August (annual picnic month – First Tuesday) and December.  Food and beverage (pizza and soda) is provided.   Board elections and general meeting takes place in May.  Neighbors, property and business owners are always welcome to attend our meetings.
Meeting schedule:
Location:  Pacific Crest Community School – NE 29th and Davis St.
Agendas will be posted one week before each meeting.  Have a topic for the agenda?  Please contact kernsna@gmail.com.

Weds., June 17 at 6 p.m.
Weds., July 15 at 6 p.m.
No August meeting – National Night out picnic at Oregon Park!
Weds., Sept. 16 at 6 p.m.
Weds., Oct. 21 at 6 p.m.
Weds., Nov. 18 at 6 p.m.
No December meeting
Other events:
Mark your calendar for these fun neighborhood association events in Kerns! Come on out and meet your neighbors.
Tues.,  Aug. 4  from 6 p.m. to dark:

National Night Out Neighborhood Picnic
Food, music and other fun! 
Thurs., Aug. 13 – Movie in the Park
Entertainment starts at 6:30 p.m.; Film starts at dusk
Park:  Oregon Park (NE Oregon St. & NE 30th Ave)
Film:  Pee Wee's Big Adventure (running time = 90 minutes)
The Kerns neighborhood is located in Central/Southeast Portland, just on the East side of the Willamette River, North of Burnside Street. It is bordered by the Buckman, Lloyd, Sullivan's Gulch, Laurelhurst and Sunnyside neighborhoods.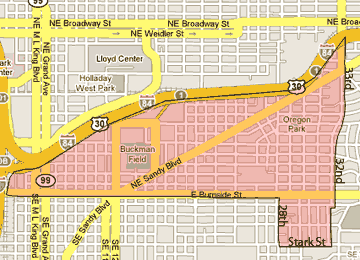 Receive our monthly e-newsletter:
Click here to sign up for our monthly e-newsletter that includes meeting information, events, news and more!