The Kerns Neighborhood Association Board meets monthly on the third Wednesday except for August (annual picnic month – First Tuesday) and December.  Food and beverage (pizza and soda) is provided.   Board elections occur in May.
 Help wanted!   Our chair and secretary are  out of the neighborhood.   We currently have an interim chair.  We are looking for someone to be chair or co-chair and help out with secretary or treasurer duties.  Please contact kernsna@gmail.com, if you have questions or are interested.
Upcoming Events:
Neighborhood Food and Music Block Party at Whole Foods Market Laurelhurst
July 19 from 12-4 @ 2825 E Burnside
Fun, food and music. Free. The Oregon Humane Society, Pet Samaritan Clinic, Tapalaya, and live music from My Voice Music, and Nick Kent. The Kerns and Laurelhurst neighborhood associations will have booths there. Stop by and say hello.
Have questions about the block party? Email helen.lee@wholefoods.com with questions.
# # #
Mark your calendars!  Kerns Neighborhood Annual Picnic

Tues., Aug. 5 from 6 p.m. to dark @ Oregon Park (NE 30th & Oregon St)

Free food, live music, information tables, raffle, and auction and more fun! Hope you can join us. Location: Oregon Park (NE 30th & Oregon St).
The picnic is made possible by the generous contributions of neighborhood businesses like yours. Dozens of Kerns businesses regularly participate through donations of cash, food, or simply by attending and exhibiting.  If you are interested in donating something for the raffle or auction or want to have a table at the picnic, please contact Heather W., KNA Communications Chair, at 503-515-4573, for more information.
The Kerns neighborhood is located in Central/Southeast Portland, just on the East side of the Willamette River, North of Burnside Street. It is bordered by the Buckman, Lloyd, Sullivan's Gulch, Laurelhurst and Sunnyside neighborhoods.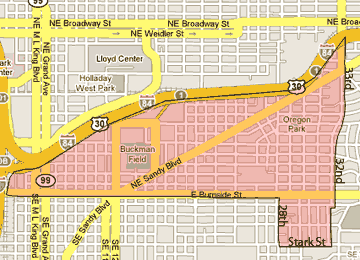 Join our monthly e-newsletter list:
Click here to sign up for our monthly e-newsletter that includes meeting information, timely events, and new businesses in the neighborhood!