The Kerns Neighborhood Association Board meets monthly on the third Wednesday except for August (annual picnic month – First Tuesday) and December.  Food and beverage (pizza and soda) is provided.   Board elections and general meeting takes place in May.  Neighbors, property and business owners are always welcome to attend our meetings.
 Help Wanted!   We are still seeking help with chair or vice president and secretary or treasurer duties.  Our chair and treasurer are currently pulling double duty since our chair and secretary moved out of the neighborhood.   Please contact kernsna@gmail.com, if you have questions or are interested.
Next meeting:  Weds., Nov. 19

6 -8 p.m.

Location:  Pacific Crest Community School – corner of NE Davis & 29th Ave.  Pizza and beverages provided.
The agenda will be posted here 7 days before the meeting.  If you have concerns or items for the agenda, please email kernsna@gmail.com.
The Kerns neighborhood is located in Central/Southeast Portland, just on the East side of the Willamette River, North of Burnside Street. It is bordered by the Buckman, Lloyd, Sullivan's Gulch, Laurelhurst and Sunnyside neighborhoods.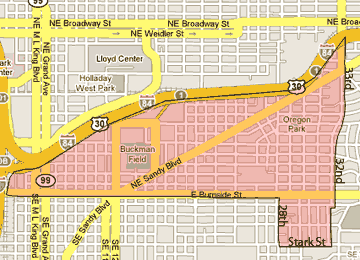 Receive our monthly e-newsletter:
Click here to sign up for our monthly e-newsletter that includes meeting information, events, and new businesses in the neighborhood!